Laboratory Relocation Services
Sample Transfers and Cold Chain Management

Our logistic plans for Sample and Cold Chain Management will capture and control the safest possible movements. Our vast experience in handling temperature controlled relocations range from frozen, temperate and chilled. The JLL Project Team will work with you to develop a robust logistics plan that includes temperature monitoring solutions to record temperature integrity of items in real-time during transportation, giving you a full audit trail.  Our logistic plans will also cover the collection and delivery geography that each item must travel through, taking into consideration the most appropriate packaging, route and forms of transportation.
Some of the areas Johnsons Laboratory Logistics can provide Sample Transfer and Cold Chain Management support are:
Shipping/customs clearance/storage and transportation solutions;
Cold chain handling management;
Supply of packaging for shipping/storage/transportation.
We will ensure that the Cold Chain is never broken throughout the Laboratory relocation. Our teams understand that items are sensitive to heat and extreme cold and must be kept at the correct temperature at all times.
Johnsons Laboratory Logistics Cold Chain Management consists of a network of powered transport vehicles, cold store solutions, freezers and cold boxes that are organised and maintained so that samples are kept at the right temperature during transportation, storage and distribution.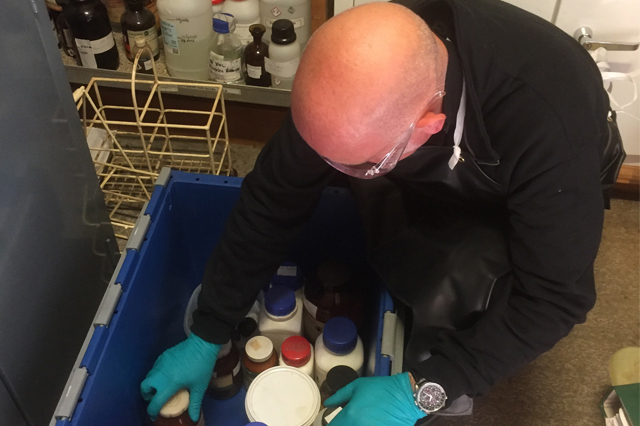 We Apply the Correct Packaging Solution when Transporting your Samples.
It is essential that the correct packaging is used to secure equipment and samples during a Laboratory Move Project. Johnsons Laboratory Logistics Team have the knowledge and experience to identify and apply the correct packaging solutions when transporting your assets.
UN approved packaging is selected based on its ability to perform optimally for the full usage (from lifting ease of use to maximising Laboratory safety throughout). Our range of packaging is suitable for the transportation of specialist components to complete remote sample collection solutions. Packing materials and labelling will be supplied by our teams, to safely transport any hazardous materials in full compliance under the applicable regulatory provisions from one place to another.
Secure Data Transfer
Johnsons has a proven track record of handling secure data, working across a number of high profile, private and public sector organisations ranging from the MOD, HMRC, various Police authorities, Hospitals and Laboratory research companies throughout the UK and Europe.
Johnsons Laboratory Logistics understands what it takes to move sensitive and confidential data. Our staff are security vetted and trained to work in line with GLP requirements.
All of our vehicles are tracked in real-time, using the latest technology. Our vehicles are all alarmed and are sealed upon collection. Johnsons Laboratory Logistics drivers undertake specialist driver training that incorporates high value and highly sensitivity relocation protocols.
Our operating systems and secure data transfer processes are ISO9001 accredited, so all of our customers can rest assured that their secure data is in safe hands when using Johnsons Laboratory Logistics.
Dangerous & Hazardous Goods Transfer
The safe carriage of dangerous and hazardous goods in packages depends on appropriate training of all those who perform classification, packaging, labelling and/or marking, documentation, loading, stowage, segregation, and unloading. The failure of any one of these elements to be completed correctly can lead to potentially life-threatening or life-changing consequences.
Class 1 Explosives – Divisions 1.1 to 1.6
Class 2 – Div 2.1 Flammable gases
Class 2 – Div 2.2 Compressed gases
Class 2 – Div 2.3 Toxic gases
Class 3 Flammable liquids & desensitized liquid explosives
Class 4.1 Flammable solids, self-reactive substances and solid desensitized explosives
Class 4.2 Substances liable to spontaneous combustion
Class 4.3 Substances which, in contact with water, emit flammable gases
Class 5.1 Oxidizing substances
Class 5.2 Organic peroxides
Class 6.1 Toxic substances
Class 6.2 Infectious substances
Class 7 Radioactives
Class 8 Corrosive
Class 9 Miscellaneous dangerous substances and articles
Johnsons Laboratory Logistics have a team of in-house experts who are trained in safe recognition, packing, handling and emergency response procedures, such as spill response management, to ensure there are no accidents arising from the movement or transporting of dangerous goods.
All of our drivers are ADR certified and trained in all aspects of health and safety. Our vehicles are equipped with aggressive chemical spill kits, P.P.E. and all applicable ADR equipment.
Johnsons are one of the few laboratory companies with our own in-house company Dangerous Goods Safety Advisor's (DGSA's). Johnsons DGSA will advise on substance classification including Limited and Exempted Quantities exemptions, on any specific loading, segregation and unloading requirements for your substances including mixed packing provisions, and operating requirements, and can produce a Dangerous Goods Note that must accompany the hazardous goods on their journey. Our DGSA will work with your team to ensure the safe carriage of any dangerous goods and compliance with the detailed requirements laid down in ADR.
Instrument and Equipment Moves
With many successful Laboratory move plans completed, our expertise and understanding of Laboratory equipment moves is second to none. Our team of experts have handled a range of high value Laboratory equipment from: Centrifuge's; Incubators; -80 freezers; Vessels; clean room stationery to Cryogenic Chambers and Mass Spectrometers, to name a few.
Using our robust Laboratory checklist, our teams will design a realistic, safe moving and lifting schedules, to ensure safe methods of lifting have been identified during the relocation process.
Our expert packers will prepare your high value Laboratory equipment before dismantling, including decontamination, removing and packing of removable parts. We ensure the proper handling of all hazmat wastes, chemicals and laboratory samples. We also pack laboratory ware, accessories and spare parts.
If specialist equipment is required for moving instruments and equipment, Johnsons Laboratory Logistics have a range of specialist lifting equipment including lifting tables, stair climbing robots and mini crane solutions.
Moving Equipment to a New Development
Our team of Lifting Technicians, Supervisors and Move Managers hold CSCS (Construction Skills Certification Scheme) cards. CSCS cards provide proof that our staff have the required training and qualifications to work on construction sites.
Exhibitions
Our Laboratory Logistics team can support you if you're exhibiting at a trade fair, industry exhibition or other promotional event. Our highly trained, professional personnel can transport your fragile display equipment to and from the venue with the utmost care and attention. We can also position your products to the best effect on the display stands and ensure that they are securely sited. As part of this service, we can provide interim storage between events of all equipment that is used for display purposes.